Veena Vidushi Smt. Padmavathy Ananthagopalan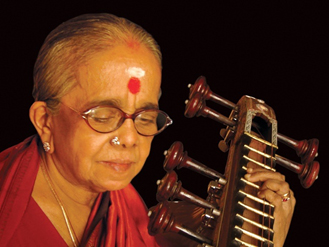 Smt. Padmavathy Ananthagopalan, one of the foremost vainikas of our times, hails from a family of musicians. Her ancestors are the direct disciples of Saint Thyagaraja and it is no wonder that music runs in her blood. The only Veena player in a family of violinists, Padmavathy is the sister of the illustrious Violin maestro, Sri Lalgudi G. Jayaraman.
Her father, Sri.V.R.Gopala Iyer, meticulously trained her from a very young age. Her brother has also been a constant source of inspiration and guidance. Living in an environment of culture and tradition, Padmavathy started performing at the very young age of 12. Ever since, Veena has been her life, her passion, her everything.
She has evolved a style of her own based on the gayaki style and literally sings on her instrument. She has performed in all the major organizations in India.
Padmavathy considered Padmabhushan Late Dr. S. Balachander as her 'Manaseeka Guru' – her source of inspiration and was also privileged to perform along with him.
She worked for 8 years in the Indian Fine Arts Society in Singapore and brought about a revolution in the science of teaching there. During her tenure, she brought out Music text books in the name of 'Shadjam' and 'Rishabam'.
She returned to India in 1983 and established a school exclusively for music in Chennai in the year 1988 known as 'Sri Satguru Sangita Vidyalaya'. The Vidyalaya has been functioning very successfully for the past 25 years and has turned out highly proficient students. Apart from being a great performer, Padmavathy is a very great teacher and many of her students are successful concert performers in Veena, Vocal and Violin.
Recently she authored a series of books for students of Carnatic Music known as 'Abhyasa Manjari Part 1 and 2'. Following this successful venture, she came out with a series of cassettes known as 'Abhyasa Ganam'.
She has also been instrumental in popularizing Carnatic music among the audiences in Anna Nagar, Chennai by initiating an organization called Annanagar Music Circle and has been conducting regular monthly concerts very successfully for the past 28 years and thereby making available to the rasikas, the cream among Carnatic musicians to come and perform at the sabha.
Padmavathy is an 'A' Top grade artist and has been featured regularly in the AIR and T.V. networks. She has toured the United Kingdom, United States, France, Switzerland, Malaysia and Singapore. She has performed in the Cleveland Thyagaraja festival in the year 1995 and she was invited for the Thyagaraja festival held in Paris.
Smt. Padmavathy has many awards and titles to her credit, some of which are
'Gana Saraswathy'
'Nada kanal'
The 'Rotary Award for Achievers.'
"Veena Thathwagnya" by the Veena Foundation; New Delhi.
She was honored with the TTK award by Music Academy, Chennai in 2006.
"Padma Sadhana" – by Padma Sarangapani group of Institutions
"Gaana Nidhi" – Sri Jagadguru Veda Parayana Trust
A Scroll of Honour presented by the Rukmini Arts and Music Trust
Vellore Gopalachariar Memorial award – by the Sruti foundation
Sangeetha Seva Rathna –Shirdi Baba Sangeetha Sabha
Nada Rathna – Presented by Nada Sudha
Arsha Kala Bhushanam – Presented by Swami Dayananda Saraswathi
Padmavathy is constantly researching and is coming out with innovative ideas to popularize the Veena all over the globe. She has designed a new portable Veena. She has solved the long existing problem of transportability of the Veena without it losing its original tonal value by making the Veena portable wherein instrument can be dismantled and carried very easily to any part of the world. At 80, Padmavathy continues untiringly to spread the message of Carnatic music and Veena all over the world.